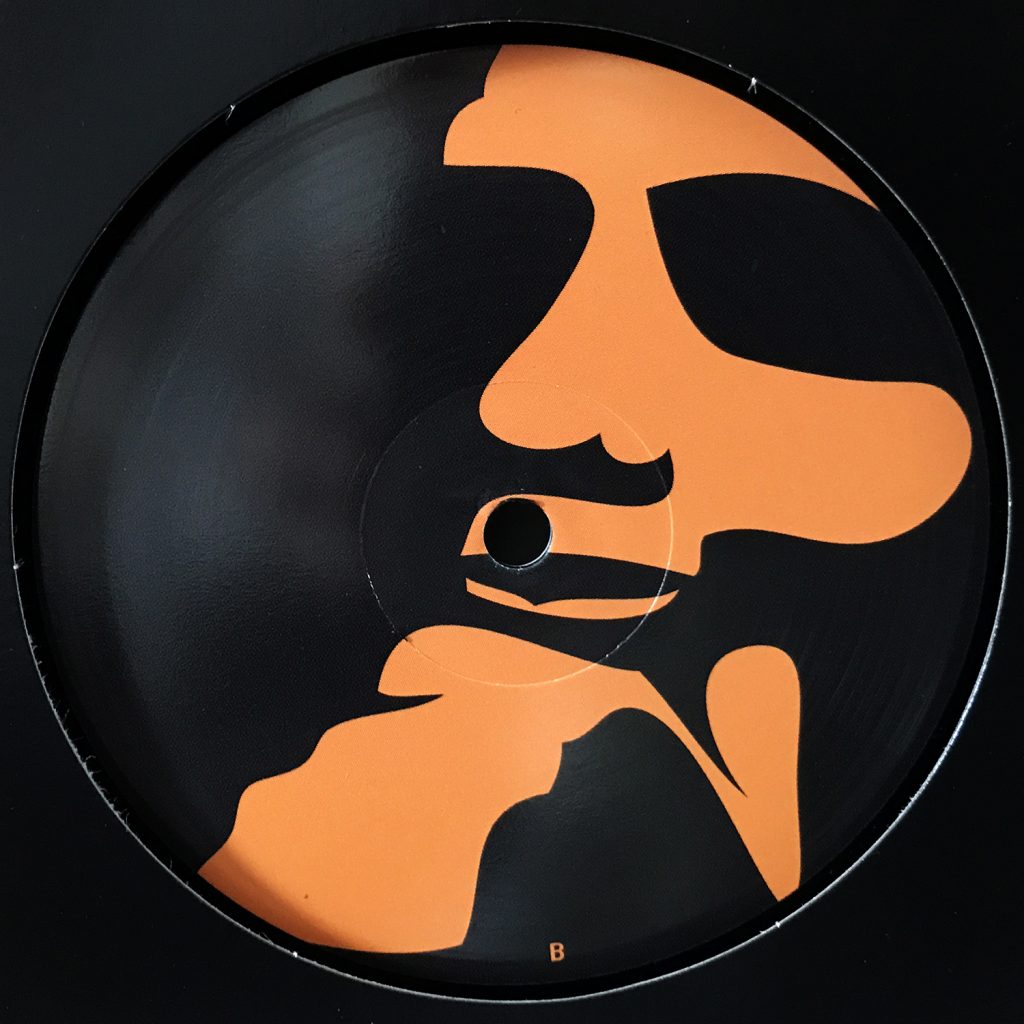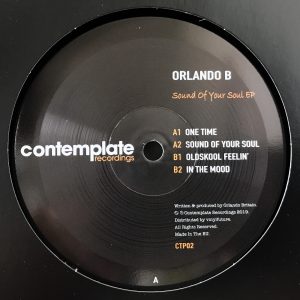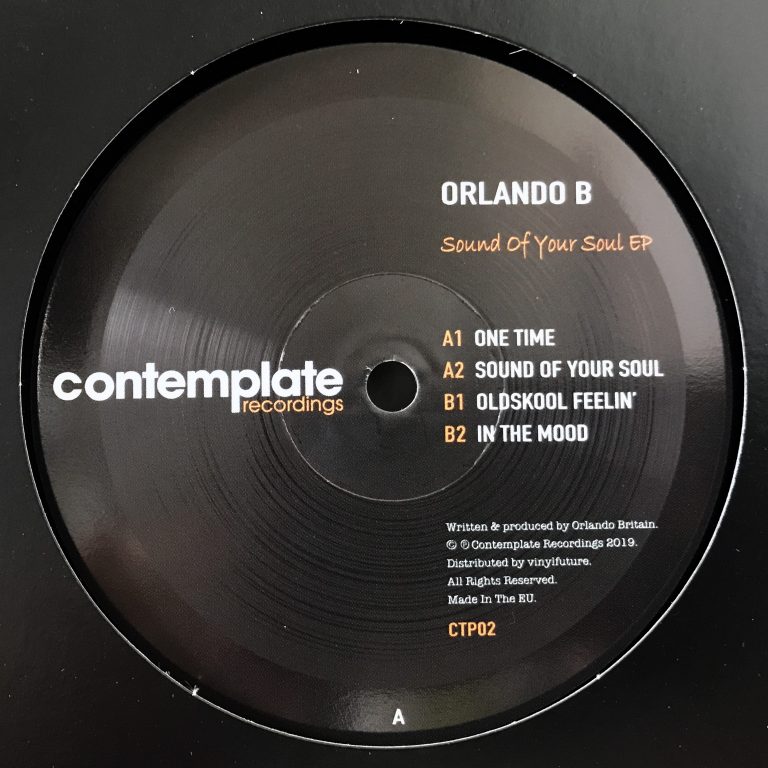 After a very long pause, My RAW Deep House Label 'Contemplate Recordings' releases the second piece of wax – 'Sound Of Your Soul EP' – CTP02.
As the title suggests (and as you should expect) I have put a my entire soul and then some into this piece of wax.. musically speaking!
4 Tracks of Deep, Raw and Emotive 'house' are contained within.
A1 & B1 are straight up Deep House Cutz, influenced by the Detroit & Chicago sounds of yesteryear and with a strong 90's aesthetic.
Title track 'Sound of your soul' is an organic, soulful peice with its' timeless orchestral pads, live drumming and haunting vibraphone melody.
Closing track 'In the Mood' is a Jackin' slow burner with chopped up jazz samples underpinned with some seriously funky house swagger!
Distributed by VinylFuture – Contact: marcus@deejay.de
---
Review In 5mag: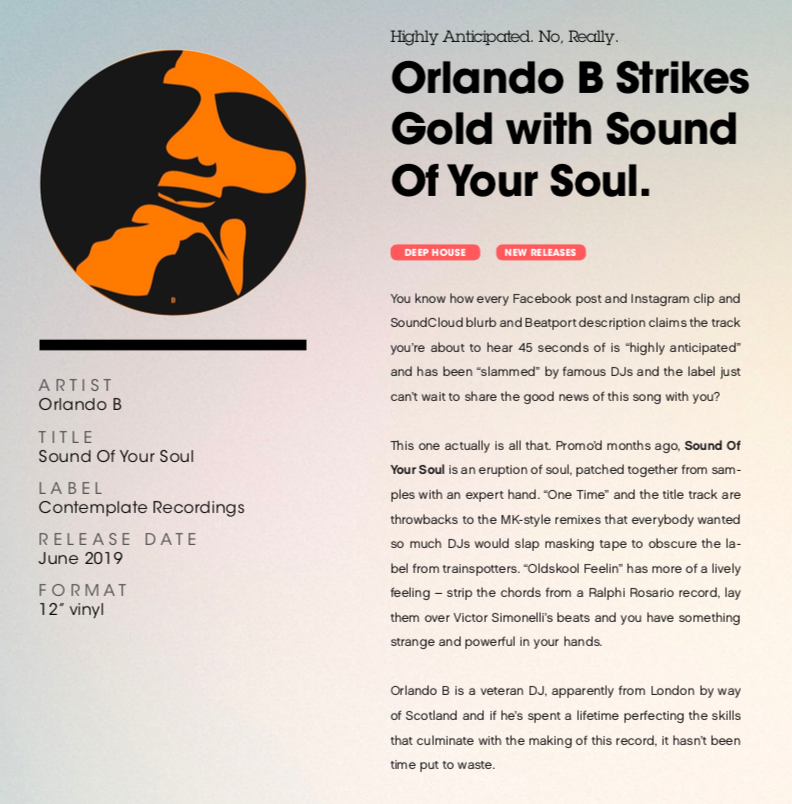 link: https://5mag.net/tracks/new-releases/orlando-b-sound-your-soul/
DJ FEEDBACK!!
Laurent Garnier: "Hummm this is awesome. Will play a lot"
The RawSoul: "Wow this is an absolutely dope EP! All 4 tracks are really strong. From rockin slammin tracks to deep moody late night house this is a very complete ep. This will get lots of plays for sure!!!"
Robert Owens: "Nice tracks"
FRED P: "Dope…"
Lars Behrenroth: "very nice EP .."
Greg D (Fish Go Deep): "in the mood is doing it for me really like the groove and jazzy cutup vibe"
Áskell Harðarson: "wow! Quality stuff!!! so deep and nice! just my cup of tea!"
Iron Curtis:"thank you kindly! Oldskool feelin is the one.. cheers, johannes"
Quintessentials: "solid cuts from Orlando, who has been around for a very long time! thanks!"
Tensnake:"oldskool feeling is nice"
Iain Mac (Clandestino): "Tasty release" 
Moskalus: "yesssss, oldskool feelin!!!"
Jens Schwan: "schöne musik"
Enrique aka Big Pack: "Awesome, Sound of your soul is fire"
Moskalus:  "Classy deep House"
Arnaud Le Texier: "cool old school deep house. Thx"
Mikrosector-50: "nice"
Perlair: "sweet"
Douze: "superb release! Sound Of Your Soul and Oldskool Feelin are absolutely perfect!!"
luvin'Lou: "some ruff cuts here. looking forward to give them a closer listen!"
Jorge Caiado: "ace!! will play and support on Radio Oxigenio 102.6fm Lisbon"
Red Rack'em: "I like In The Mood best. Wonky!"
Krewcial: "Oldskool Feelin is a sure shot! Great tune, added it to my setlist and next online mix!"
Jason Hodges: "In the Mood is hot!!"
Carlo Gambino: "Great release! 'Sound Of Your Soul' is a great party starter. Looking forward to the road test in my early sets. Support"
Ket Shah: "very nice"
Finest Wear: "Nice n Dusty Sounds Here… :-)"
Lay-far: "Loving Sound of your Soul"
Simon R Gudmundsson: "Oh yeah! Oldskool feeling got me dancing, great release!"
Alexo: "Like the bounciness of one time"
Tunde Adams (Dj Caspa): "Sound of your soul is my fav here :)" 
Alex iM!X: "nice!"
Jon Cutler: "Phat EP all around !"
Jacques Renault: "Enjoying this!"
Russell Deeks (IDJ): "Good stuff"
Will Turner: "Real good deep house. It worth to play it out. Galaxie Radio will support. Thanks !"
Severino Panzetta:  "Lovely vibez"
Ka§par: "Sound Of your Soul is the track for me, thanks for sending!"
S3A: "Cool one !!!"
OOFT! (Ali Herron): "Oldskool Feelin for me :)"
'Lehult: "Dope! thanks! dj assam"
Raul Saaremets: "Ace!"
Jamie Rial – Audiojack:  "Old Skool Feelin is the one for us here"
dubble d/moodymanc: "Super cool… thanks!"
Shur-i-kan: "Very nice grooves!"
BRENDON P: "Nice – will be playing the choice cuts out for sure – thanks for this =)"
Perlair: "nice"
hardrock striker: "very good, deeep & sexy, we love that sound"
James Fox / Severn Beach: "solid cuts all round here, thanks!" 
Ossie: "real nice vibes!"
Mr Ties: "deep dope"
Daniël Leseman: "Love the oldskool vibes!"
Simon Caldwell: "Brilliant proper deep house. Big fan! Thanks!"
Tonylionni: "Thanks for sending downloading for tony lionni peace and love and admiration xx"
chris long: "What a great all encompassing EP this is!"
"loz goddard'': "Sound of Your Soul, oh yes!"
Czarina Mirani: "Beautiful!"
Maxim Lany: Gent (Belgium): "Amazing stuff."
John / Le Visiteur Online:  "Happy to premier if there are any tracks left. Sound of Your Soul and Oldskool are the favourites."
frankie flowerz: "great"
Andy Ash: "'Sound of Your Soul' is really cool and I'll definitely be playing it."
Gary Jones: "full support"